SF60 product manufacturing update; mud pies and giant hot composting bins!
This blog covers the up-scale production of new batches of our SF60 Super Compost along with the testing of each batch.
The highlights
The Super Compost (SF60) batches have 30 times more colloidal humus than typical PAS100 composts.
They are however not as good as the lab. scale product which had 100 times more!
We have five tonnes of SF60 product … at last enough to provide lots of samples for customer testing!
We remain confident that compost and Super Compost are different products and that high levels of colloidal humus make a difference.
We now look in more detail via sections on:
Background and objective
Making the 8m3 compost bins
What went in
What came out
Test results
Discussion
Next steps
Background and objective
We have made small quantities of SF60 in our lab system. There was enough evidence from our growth tests to move forward. We submitted a patent covering the unique humification process conditions - this is 'pending' and we're hoping for news in May 2018.
We needed more product for customer trials and testing. After talking to a few compost sites, it became clear we were going to have to make the SF60 at our own site before we were able outsource and make 100 tonne batches via a partner.
What are we aiming for in the SF60 product?
| | |
| --- | --- |
| Aim | Reason why |
| Exceptional stickiness[i] due to presence of colloidal humus | Aides aggregation and tilth. Prevents soil erosion |
| Good level of nutrients and trace elements | Slow release of nutrients |
| High CEC[ii] (Think of this as a measure of how much nutrients the 'sponge' can adsorb for release to plant roots) | Facilitates plant nutrient flow |
| Huge water holding capacity[iii] | Acts as water reservoir to roots |
| Long water retention time[iv] | Prevents drying out in summer |
| High stability (ie resistance to decay)[v] | Long lasting impact |
Using our hot composting skills we designed three 8m3 modular hot bin composting units at our facility and started to load them. We have had a few twists and turns. Recently, as the final part of the move South, we dismantled the boxes and took out the compost.
In scaling up production, we rapidly got caught in the trap of "manual versus equipment". We went through three shredding methods and even the £1000 shredder sold specifically for green waste (ie not a wood shredder) was next to useless!
We compared notes with the big composting sites: it looked like we needed £30K minimum to get a decent green waste shredder!
We manually lugged and eventually got the first bin full and closed the lid. During the first two weeks it did not heat up. We added hot water – it flew to 60C and remained there for another two weeks before it fell back to 30C and then back to ambient. We had issues retaining heat via the lid. We eventually resolved the lid issue.
Box 1 – what went in
We added green waste and our colloidal humification agent (a proprietary mix of micronized oxides and biochar).
Box 2 – what went in
A mix of animal manure, straw, small amounts of green waste and the CHA powder.
Box 3 – what went in
We added a locally made PAS100 green waste from Darren over at GreenTech. They supply compost sieved below 3mm – good stuff. We mixed this 70:30 compost/biochar.
Why? Well for a long time my co-workers had raised questions around whether SF60 would perform better than a compost/biochar mix. It was proving hard to scale SF60, testing to see if the competitors methods were better made sense.
Controls
We had two controls: our lab scale Super Compost made via our patent pending process and a commercial growing media (a peat/coir mix).
What came out
This photo is from bin two and you can see a deep uniform almost black layer below a lighter brown layer on top. (The top left hand side has already been scrapped off).
The layers were due to a process hiccup. We stopped adding manure/CHA in December. The lid blew off in winter.
Due circumstances beyond our control, some horse manure and straw was dumped on top of the manure/CHA mix. The black stuff below is the mixture made using our colloidal humification agent. (Bad that the integrity of heap was interrupted, but a positive that two very distinct layers help us illustrate the difference the CHA makes). The bottom layer was sticky and splayed wonderfully.
Tests results - Box 1 and 2
Both results are incredibly close, 34% colloidal humus (wet weight) and 12% (dry weight.). However, these ratios are way down on the lab test samples (70% wet weight, 50% dry weight). (Remember we are referencing weight in sieved material <6mm. The perentages are lower when looking at the whole compost).
The water holding capacity (WHC) factor was around x3.5 of dry weight - much lower than the x6 to x9 achieved in lab tests.
What did we get from box three?
In terms of a change in colloidal humus – zilch. It was the same as starting PAS100 (1% by wet weight, 0.3% dry weight). The WHC is x2 dry weight – in line with other composts. The biochar has not increased WHC nor increased colloidal humus.
No real surprise. The compost going in is mature and we have always suggested that CH is made during the active composting phase. Our main goal was to investigate biochar activation – this will require growth tests and chemical analysis. We will report back on these.
Results from the control samples
We also tested a commercial growing media and the laboratory Super Compost as controls.
The Super Compost lab scale sample results were similar to bin1&2. This is a surprise. The other lab. results demonstrate x100 increase not x30. We are going to have to re-test and check before drawing a conclusion.
The commercial growing media was fascinating!
It has a high WHC - x4 dry weight, double typical PAS100 compost. We know the mix is coir/peat. We expected x2, maybe x3. We dug around on suppliers website. We think the bag might be the 'commercial grower grade' treated with a chemical wetting agent. All in an impressive performance, just a shame the coir gets shipped from Asia and using peat is unsustainable).
We believe it has low colloidal humus (0.7% wet, 0.4% dry). The sub 0.5 mm fraction had little visual or physical properties indicating the presence of colloidal humus. (It dried very quickly, the fraction was brown (not black) and it was friable after drying (not a solid 'set' lump).
Discussion
It has proven difficult to draw direct comparison between the lab samples and the scaled-up production batches.
The sheer volume of waste handled manually resulted in layers of compost and uneven mixing of the CHA. The samples used could represent uneven distribution – sorry best practice on sampling was not followed – it all looked uniform! The poor CHA distribution is supported by the loss on ignition ash residue tests which are higher than 5%).
We did not achieve close control over the oxygen, water and temperature conditions. We had dissimilar time and temperature profiles between the lab and scaled up batches.
Of course, we might just be seeing random variation in the results. We need to be vigilant and not concoct scenarios that fit the results. Taking these factors in, we do however find merit in the following explanation:
Achieving maximum humification requires two conditions:
1) the right amount of humification agent uniformly mixed with the waste
2) the right water and oxygen conditions.
We propose that the time and temperature were not the direct issues but rather they affected the water and oxygen concentration levels. Although the CHA powder increased humification (x35, 12% dry wt.), we did not generate the maximum (x100, 50% dry wt.) as the water/oxygen conditions were non-optimal.
Based on other results, we further suggest that meting either condition (1) or condition (2) can improve humification. We have created the following hypothetical chart to cover the range of results we now have: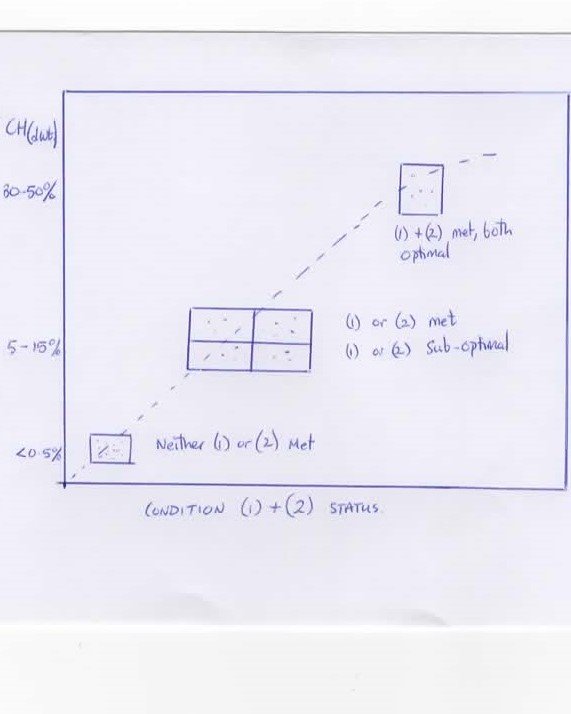 (Sorry – we ran out of time to produce a quality graphic in time for publication deadline!)
Conclusion
We remain confident that compost and Super Compost are different products. We believe Super Compost can be made domestically via garden composting and on an industrial scale via windrows and IVC composting systems. How much more (ie improving from 0.3% to 10-15% to 30-40% of dry weight) is going to depend on how well the humification criteria are met.
Where next?
We are keen to partner with an existing PAS100 approved composting site who uses IVC technology to compost both green waste and food waste. The next goal is to make a 100-tonne batch under closely controlled conditions. Once this is done we can replicate 100t every 8 to 12 weeks.
If you are interested in working with us contact [email protected].
Foot Notes