Amazonian Dark Earth - what is it and how do you make it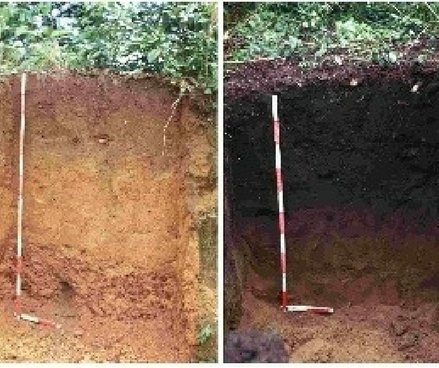 Amazonian Dark Earth (ADE) also known as Terra Preta (black soil in Portuguese) is highly fertile ancient man-made soil found in areas of the Amazon basin inhabited by humans. They are so fertile, scientists have been researching them in the hope of recreating the long-lost recipe for use in today's agricultural soils.
Some scientists are beginning to think it will take hundreds of years to fully create new ADE (TP) soils. In this controversial blog, Tony disagrees. He thinks our ancestors achieved growth success within a growing season and so can we!
Better read on!
If you want to convert your soil to Terra Pretra - jump to our SF60 page
If you want to make your own Amazonian Dark Earth - starting with compost waste jump to our Compost Humification Agent page
What is an Amazonian Dark Earth?
This is the iconic image of ADE:
The typical forest soil is on the left and the black, super fertile soil is on the right.
What makes ADE (Terra Preta) dark?
Scientific studies indicate the darkness is due to charcoal in the soil. This is anthropologic, ie the result of human activity. Carbon-dating suggests the practice of adding charcoal to these soils goes back to the earliest human inhabitants over 2,000 years. The practice seemed to stop 350 years ago associated with population demise after the arrival of European diseases. The patches range in size and stretch over large areas - think lots of small farms!
Why are Amazonian Dark Earths super fertile?
This is the million-dollar question. If we can replicate the enhanced fertility across all soils it would make a huge impact on world food production.
Charcoal is certainly one unique aspect of Terra Preta. Biochar is the modern term we use to define charcoal specifically made to improve soil using sustainable resources and environmentally-sound production techniques. Numerous methods and different types of biomass (wood, leaves, stalks, rice husks, coconut kernels, etc) can be used. Biochar is capable of decreasing soil acidity and if soaked in nutrient-rich liquid can slowly release nutrients. It also provides habitat for microbes in soil due to its high porosity surface area. For those who want the detail, jump to our what is biochar blog.
The other aspect of Terra Preta is increased and self-sustaining high levels of soil organic matter (SOM). In the surrounding soils, SOM is low (~3-5%). Despite large amounts of organic matter falling to the forest floor, the high temperature and humidity in the Amazon basin cause rapid decomposition of organic matter. Yet, ADE soils can be as high as 10% SOM.
How was Terra Preta made?
The old recipe is long lost. Adding biochar alone has given inconsistent results from good to poor. Adding charcoal and compost (organic matter) works, but the compost is quickly lost - there is no permanent gain in soil fertility. The missing link is how the humus fraction of the soil organic matter (SOM) fraction has been increased.
The charcoal has been traced back to ancestral wood burning. The general theory is that the first charcoal came from pit fire waste. Charcoal was then specifically made for adding to soils and fertility increased over a long period of time.
For me, this theory is problematic. Firstly, making charcoal is time-consuming and resource-intensive. It works as a fuel, but ancient people making charcoal for soil improvement on a long term promise of fertility does not stand up! Farming today is pretty much as it was then - the goal is crop yield and preferably crops that will store for long periods (eg grains). We doubt the first farmers were thinking about charcoal to improve crop yields 10 to 100 years into the future. Our instinct is they applied a fertiliser that worked in the season it was applied and used it annually for many years because it worked.
How was Amazonian Dark Earth made - Our theory
Charcoal was a highly valued fuel and too valuable to be added to soil. Smallholding plots and villages had 'midans' (toilet-waste pits). These were filled with poo and wastes (old clay pots, bones, fire ash and leftover food waste).
Each midan pit was filled up and then a new one dug. The old pit area started to overgrow with flourishing vegetation. (Not too dissimilar to extensive weed growth around some compost heaps). Observation of 'cause and effect' led to the spreading of 'midan fertiliser' additive on all agricultural land.
Combining our detailed knowledge of composting and soil organic matter (notably colloidal humus) we believe we have found (or got very close to) the lost recipe. There are specific composting conditions in a tropical midan. By sheer chance, our ancestors were creating specific hot composting conditions and adding a potent colloidal humification agent that increased the level of colloidal humus in the final compost.
Also, by chance, the colloidal humus they made was stabilised within the small pieces of charcoal (biochar) that are present in fire ash. When the 'midan fertiliser' is added to the soil, the colloidal humus is not lost via rapid decomposition. In our hypothesis, biochar is not the 'magic' fertility ingredient; it is the protective agent that prevents the magic 'colloidal humus' from being lost.
Just a quick note on the properties of biochar often quoted for why it affects soil fertility: it holds and releases nutrients (measured via CEC value) and it holds water (measure via WHC). Biochar CEC is 20-50 not that much different to clays in soil. Biochar WHC is X3 own weight - much better than sand, but about the same as clay. Pure colloidal humus has CEC of 200-500 and WHC of x10). The small increase in colloidal humus and SOM have a big impact on soil fertility. (You can read more extensively about biochar versus colloidal humus at this blog)
The missing part of the Amazonian Dark Earth (Terra Preta) recipe (based on our work) is the addition of a humification agent, controlling composting conditions to match those in the midan and protecting the colloidal humus made.
How do you make Terra Preta fertiliser?
Add the SoilFixer Colloidal Humification Agent to your composting process.
Adjust your composting conditions. At this stage, sorry, but you're going to have to be patient before we release the conditions. We're awaiting patents and working through the detail of how to licence the method to home users and industrial partners.
We've called our version of the organic super fertiliser from this process SF60. Our early trails (which do need large scale validation) indicate the product rapidly increases soil fertility in the first year by at least 20%. Our tests on SF60 also indicate the colloidal humus fraction is stable and will last for over 100 years. (Note just like TP SF60 contains some colloidal humus - but it is not pure colloidal humus).
In other words, we can get the type of fertiliser effect needed in year one, two and so on. If you want to get involved let us know!