Basil plant growth tests (Tony's kitchen, spring 2017)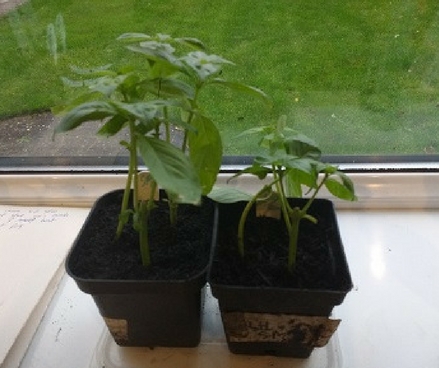 We had some leftover basil stalks bought for cooking from a local supermarket.
I decided to try and keep them an extra week by putting them in a glass of water. They sprouted healthy looking roots. It triggered the idea to transplant them into biochar and see how they prospered compared to a commercial growing mix.
The stalks were planted four in a pot with a biochar/humus mix and four in a pot with Sylva growing media. (Note: this is a small sample size and a rather 'basic' test. The results should be treated with caution if trying to establish what might happen overall).
Results: after a week or so, the SoilFixer growing mix started to outgrow the Sylva.
At 16 weeks, the test was halted as basil had started to flower. The height and volume were visually estimated using ruler - double the height and width, that is 100% larger.
You may wish to compare these with the much more in-depth Basil plant growth tests undertaken by Jason Daff in Spring 2017.