SUPER broccoli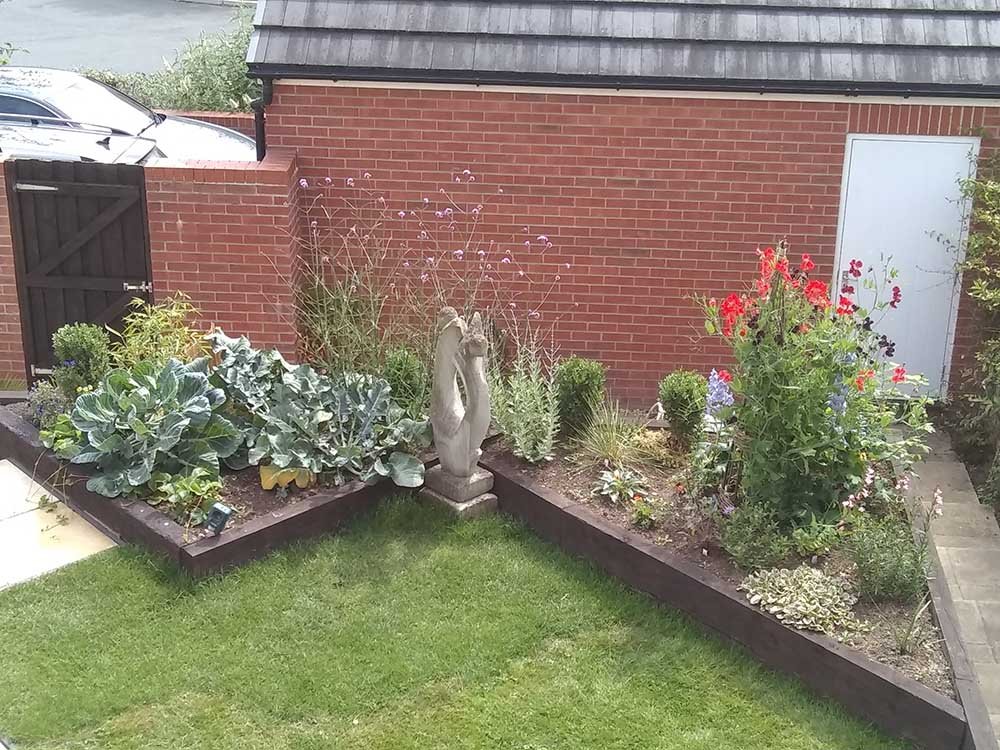 Wow this whopper broccoli weighed in at 800g (27 oz), that's three times larger than average floret head - this supports some of our earlier findings.
Back in March, we re-organised the garden and put in some raised beds. The starting soil for the beds was heavy clay. I added lots of our SF60 compost, which is made by adding a the SoilFixer Compost Humification Agent in with the garden and kitchen green waste to the composting bin. The agent acts to increase the amount of beneficial colloidal humus. The biochar component acts like a sponge adsorbing nutrients. The soil microbes then attach to the biochar and work with the plants roots to transfer nutrients; we call a 'Super Compost and reccomend adding one part SF60 to four parts soil.
The broccoli grew like mad.
They say you learn as much from the failures as the successes – so what has not gone quite to plan?
The raised beds on the other side did not fare so well. In fact, we had stunted plant growth. We have spent three months looking for possible reasons. There was no evidence of slugs or pests eating. The pigeons were having a go, but that did not appear to be the whole story. Our keen readers will be aware we recommend 'activating biochar' to prevent short-term nutrient locking. We began to think maybe some of the home-made SF60 had been 'immature'. Or maybe I had added not just SF60, but may be used bags of biochar had been 'raw' and not activated. I added a liquid fertiliser to the soil in the raised bed (this should have countered any locking) - still no significant plant growth. A week back, I was doing some pH tests on a new batch of biochar at the production unit. As the meter was out, I thought I'd take it home and check the pH of the soils in the raised beds.
A good starting point for most plants is a soil pH in the range of 7.0-7.5. Clay soils (and especially those with lots of chalk / lime) can be at 8.0. The soil was testing at 8.0-8.5. Putting a bit of soil onto a spoon and adding vinegar gave a fizz indicating free calcium carbonate (lime/chalk). Following advice on the RHS FAQ pages, I added a couple of doses of Iron Sulphate to lower the pH and provide iron. Growth has restarted, the pH has dropped to 7.8.
Most plants are intolerant to lime/alkaline soils. Broccoli can stand lime (in fact lime is often added around stems to reduce club root). The moral of the story – your problem might not be what you added, it might be what you started with!
If starting a new raised bed, check the soil pH first. Target getting this into the 7-7.5 range whether this is by adding compost, soil improvers or acid/alkaline moderators (eg lime or iron sulphate). Once the pH is right, the soil microbes and roots will make use of the nutrients and Biochar Super Compost.
For reference:
SF60 batches test at pH 7.5 – in line with most mature composts.
Biochar (raw, non-activated) does vary by both supplier and batch. Our wood-based biochar is usually 8.0-9.0 (ie alkaline). If you already have alkaline soil, do not add raw biochar raw. Activate (and neutralise) it by putting it through your composting bin first.
Wood ash (from wood burners or charcoal BBQ ash) have pH in range 10-12 (very alkaline). Use it sparingly and not at all on chalky/alkaline soils. Again, the best way to use 'ash' is to add it sparingly into the compost pile. The compost microbes will utilise the ash and create a neutral compost that can be used with your soil.
Tony