Biochar and SF60 Application Rates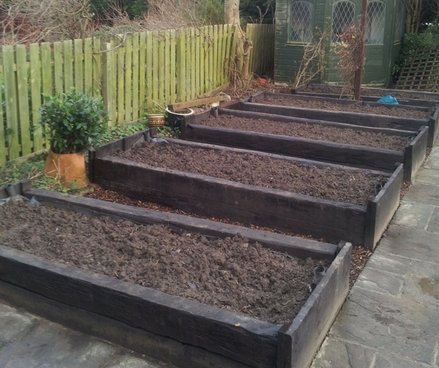 How much SF60 or biochar should you add to your soil beds and planting pots?
How do you convert ratios from area (m2) to weight (Kg) or volume (m3)?
This blog provides the help you need
On our Biochar and SF60 product pages we simplify the application rate to "10 Kg/m2"
The is easy to work with as we supply 10 Kg and 20 Kg sacks and gardeners measure plots in metres (ok some use 3 ft/ yards!). One 10Kg bag per square metre of garden.
Step back - Application rates – the theory
We are seeking to create the very best soil conditions and our reference point is what we call high-quality loam – a dark rich crumbly soil. Soil is a mixture of sand, clay and organic matter (including compost organic matter and humified organic matter). Loam is 40%/40%/20%. Most soils are low in organic matter with most UK soils being in the range of 2-8% organic matter. They also tend to be rich in clay with just a few areas having sandy soil.
Adding biochar affects the texture, tilth and organic matter of the soil. It also affects the microbial population. But you can have too much of a good thing. When the organic matter goes above 20% other issues start to occur - it can dry out quickly, become friable and subject to wind erosion. Alternatively, in very wet conditions, it can become airless and acidic (ie a peat bog).

There are many biochar academic studies that report benefits from a wide range of application rates from as low as 1% to as high as 30%. Most reports indicate benefits level off at 30%. We also have a reference point from compost which is added in 5-20% volume ratios.
Most % and parts ratios refer to volume. Things get a little more complex if we are using weight ratios. In the detailed sections below will outline how to use the different methods and note that this can change the actula ratio by as much as a factor of 10!
Mixing based on Area
This is the easiest method. For example, apply 1 Kg of biochar per square metre of garden soil. However, it is also the least precise! (see detail below)
The recommended range is 1-3 Kg of biochar per square metre (2-5 Kg/m2 for SF60)
The minimum for biochar is 0.25 Kg/m2 (0.5 Kg/m2 for SF60)
A maximum recommended for biochar is 6 Kg/m2 (10 Kg/m2 for SF60)
If we look at this in more detail, if we dig the biochar into the soil at different depths (eg 5cm, 15cm and 30 cm), then the ratio of 1 Kg/m2 gives a different concentration based on the depth of soil.
| Biochar | Kg/m2 | Area of soil | Vol. ratio @7.5cm | Vol. ratio @15cm | Vol. ratio @30cm |
| --- | --- | --- | --- | --- | --- |
| 10 Kg | 1.0 | 10 m2 | 3% | 1.5% | 0.75% |
| 20 kg | 1.0 | 20 m2 | 3% | 1.5% | 0.75% |
| SF60 | Kg/m2 | Area of soil | Vol. ratio @7.5cm | Vol. ratio @15cm | Vol. ratio @30cm |
| --- | --- | --- | --- | --- | --- |
| 10 Kg | 2.5 | 4 m2 | 5% | 2.5% | 1.25% |
| 20 kg | 2.5 | 8 m2 | 5% | 2.5% | 1.25% |
Applying for maximum impact
The most powerful biochar and SF60 benefits involve interactions between the microbes and root hairs – ie those in the root zone. It follows the best place for biochar is in the root zone. Our recommendation is to dig it when planting (eg seed drills, tree holes or when cultivating the soil. This is not always possible nor desirable if following no-till regime or are looking to plant a field of trees! You can use this impact to stretch and make your budget go further!

Making biochar go further for the same benefit
If you are planting up and digging holes, it is more cost-effective to apply a thin layer in the bottom of the hole.
Bedding plants
Let's assume we are digging 7.5 cm (3 inches) holes – this means you dig out 0.5 litres of soil (two cups)
If you mixed biochar into this back-fill soil at 10%, that would be 0.05 litres. If we assumed 30 plants per m2, you would add 1.5 Kg. You would need to mix 10 Kg/m2 to get the same 10%. You can either add more for the same money or spread the cost over many years. (It is usually simpler to drop a couple of cm in the base of each hole than mix in with the backfill).
Tree planting, 30cmx30cmx30cm (1x1x1 ft)
This would be approx. 27 litres of soil taken out. At 5%, you would mix in 1.4 litres of biochar into the backfill soil. One 10Kg bag (15 litres) will do 10 tree holes. If you aimed for 5% into the whole planting area for 5 trees, that would probably be an area of 20m2 at 5Kg/m2 - 100Kg (x10 cost). Also, it is unlikely there is the time or equipment to dig out and mix a 20m2 area (6m3 volume) of soil for tree planting. Normally we get asked can I just spread it on top and let is wash in or wait for worms to dig it in.
Should I mulch (spread as a top layer)
Benefits have been shown when used as a top dressing or when lightly hoed into top few centimetres of soil. Worms will pull down SF60 and the smallest particles of biochar (nothing above 0.5mm). The finer particles will wash down with rain. Both these processes take a long time - at least a season.
But we recommend avoiding 'top dressing' biochar and SF60. In the hot sun, SF60 will dry out and lose its benefits.
Many gardeners need a more precise calculation than the Kg/m2 method. They often need the volume ratio
Volume (litres, and cubic metres m3)
The volume of soil is the width of bed * length of bed * depth. But the depth of soil varies – if you are hoeing in (or trowel planting) then usually you are looking at a maximum depth of 7.5cm (2-3 inch). If single digging 15cm (6 inches) and double digging or ploughing 30 cm (12 inches)
The 1x1 m square thus has a different volume of 7.5 litres, 15 litres or 30 litres based on the depths. 10% of this varies from 0.75 to 3.0 litres a four-fold difference.
Example 1, using a 1m x1m bed (1m2)
1m * 1m * 0.3m planting depth = 0.3 m3. 10% = 30 litres (1 @20 Kg bag)
(that's 3ft*3 ft* 12 inch depth in imperial, and a double dig trench method)
1m * 1m *0.15 planting depth = 0.15 m3. 10% = 15 litres (1 @10 Kg bag)
(that's 3ft*3 ft* 6 inch depth in imperial, single dig)
1m * 1m *0.075 depth = 0.075 m3. 10% = 7.5 litres (1 @5 Kg bag)
(that's 3ft*3 ft* 3 inch depth in imperial, more a spread and hoe)
Example 2 - Four raised beds
1.2m*7.2m*0.2m planting depth = 1.73 m3 *4 beds = 7m3 of soil. 10% = 0.7m3 (or almost a full 1m3 dumpy bag. (This is a 4ft*24ft* 9 inch bed in imperial)

But if you only lightly hoed in the SF60 to the top 7.5cm, you are working with 2.6m3, 0.26 m3 (3 times less)
Mixing by weight
This is the most complex method. You have to know the bulk density of your soil and you have to decide if you are working with dry weights or wet weight. Usually, this method is only used in academic studies – which makes it all the harder to translate the academic papers back into real-life gardening!
Examples, 10% by weight
Take volume in m3 and multiply by bulk density in Kg/m3
1m X 1m X 0.2m = 0.2m3 * 1200 (kg/m3) = 240 Kgs
1m X 1m X 1m = 1m3 *650 Kg/m3 = 650 Kg of SF60 per bulk bag (but this contains water)
1m X 1m X 1m = 1m3 *410 Kg/m3 = 410 Kg of 0-8mm Biochar – but this is dry (<5% water)
We have an Excel spreadsheet available - please email help@soilfixer.co.uk for a copy.