Improving Potato Crop Yield – Test Results
50% increase in potato crop yield achieved in raised vegetable beds amended with various biochar, humus and compost mixes.
The 'second early' Charlotte potatoes are now out of the raised container test beds. Wow! We have 50% more potatoes from the beds with additives than the clay based control soil.
These increases are not quite as large as the 150% increase we saw with the earlier radish test results but a 50% increase in crop weight is very good.
Let's have a look at some highlights and review what might be going on….
| | | | |
| --- | --- | --- | --- |
| Test Bed | Crop Weight | % Change (over control, 5) | |
| Bed 5: clay + PAS100 compost | 2.65 Kg | + 43% increase | |
| Bed 4: clay + HOTBIN compost | 2.81 Kg | +52% | |
| Bed 3: clay + Biochar | 2.06 Kg | +11% | |
| Bed 2: clay + Humus + biochar | 2.76 Kg | +49% | |
| Bed 1: clay (control) | 1.85 Kg | 0% | |
Consistent with the radish results, the greatest improvement in the crop yield was achieved in the raised beds where the topsoil has been amended with various composts. The compost mixes had different levels of colloidal humus. If you are unsure about the difference between colloidal humus and compost, read this post.
In more detail, we believe the results help confirm
Biochar acts as a 'home' for soil bacteria and fungi. The home is like a giant sponge absorbing nutrients and water. 'Happy' bacteria grow more and create more humus. Nutrients held in the biochar/humus mix are accessible to the root hairs and via AMF fungi which work with the root hairs.
Organic matter and biochar increase:
Soil biology (bacteria and fungi)

Soil aggregation (tilth)

Water retention

Nutrient flow
There are some differences between the results from the potatoes and the early season radish tests.
In summary, we think we have multiple effects that are having a larger impact as we progress.
The biochar we used was NOT activated. It has taken 6 months to 'catch up' and become fully active in the soil. (We opted to use non-activated biochar as we also wanted to look at impacts on soil tilth. We recommend all biochar is activated – preferably by passing through a composting pile.)

The biochar is giving a better tilth and increasing water retention, thus producing a higher crop weight than the potatoes in the clay control.

The impact of the high percentage addition of compost in bed 5 which worked well for the first radish trial (150% increase) is fading. The compost has been broken down by bacteria.

The Biochar/humus mix is delivering benefit in multiple areas: the biochar was inoculated with humus, which retains more water. The humus and biochar both increase aggregation of soil particles and hence help with aeration.
As with all our test results, we note that care needs to be taken when using a limited set of tests results. Looking at the research across the biochar sector; results vary from negative -30% to hugely positive +300%.
Factoring in our expertise on what works and why it sometimes does not, using the results from our pot trials last year, we believe a conservative estimate for improving crop yield in clay based soil will be +30%.
Let's cut to the chase – did we get a return above the cost of the additives?
Well, the potatoes have a retail value at the supermarket of £1/kg. We had 50% more. By working back from the area used, we achieved an extra £1 of crop per m2 of soil used. We had the luxury of adding biochar and compost above the recommended levels (compost is typically added at 10 Kg/m2, NPK at 0.02 Kg/m2 and biochar 1 Kg/m2). With the quantity we added, the additives cost more than the gain. If we ignore the fact that biochar will last a life time, for our next trial economics dictate we need to gain +50% crop yield whilst only using a fraction of the volume of SoilFixer products.
Where next?
We are not disheartened by the economics of this test. The goal is a super fertiliser. We are already looking at the formulation of the humus/biochar/NKP mix that will deliver the fantastic results when used in small amounts. We have samples of this new 'biochar compound fertiliser'. Think of this as a 100% organic, long lasting sponge that comes loaded (charged) with slow release, 5-5-5 NPK and packed with trace nutrients. The sponge will last a life time and the NPK nutrients can be recharged each year when liquid fertilisers are added.
Related Q&A
Quality & Quantity
Among others, organic gardeners often state it is not just about crop weight (quantity) it is also about quality (taste, vitamins, nutrition). We do not have the sample size (numbers) or budget to do any qualitative taste testing. We can say the 5 families who ate the potatoes all reported 'crisp and excellent'.
Where the potatoes blemish free?
Yes, over 99.4% were blemish free.
Did we get more potatoes per plant in some beds?
No, the plants with 50% more crop weight also had 50% more potatoes in number. The number per plant and total weight per plant are equally correlated with growth.
Did the potatoes differ in shape?
Not really. Those in the clay soil tended to be more irregular, those in the biochar and high compost were more uniformly oval. Uniform shape is probably related to good tilth and no stones.
Environmental focus: are the materials and process sustainable?
The compost and humus were made from green waste and food waste. The biochar from wood resources. Hence we have diverted waste from land fill and reused resources.
The colloidal humus came from the HOTBIN® we use at home. The waste going in is about 50% food waste, 50% green garden waste. None of our family food waste has gone in the waste bin for over 5 years – a substantial waste diversion from collection and reprocessing.
The biochar all came from UK wood resources. The carbon is now permanently locked (sequested) into the soil. We used about 60Kg of biochar in total (equals 100Kg CO2). I feel a lot better about sinking 100Kg of CO2 in our raised beds at a cost £100 than I would have if I had paid a similar fee to the aeroplane company to 'offset my carbon foot print' as a fee top up on my ticket to Italy this year! (According to websites, 0.25t CO2 per hour flight time is about right).
What weight of crop did we achieve?
1.8-2.8 Kg /3 plants (600-940g/plant). Based on the area used, this approximates to 3.0-5.0 Kg/m2 (ie 30-50 t/ha). This test was designed to compare the impact of soil additives against a control soil. It was not designed to optimise the total crop weight! The potato industry has loads of technical data on planting to optimise yield. Professional growers achieve 20-60 t/ha depending on tuber seeds, spacing, fertilisation regime etc.
What was the green leaf and root weight?
We also cut and weighed all the green leaf and root growth. The leaf weight in all cases was the same as the crop weight. The leaf weight was 20% greater than the crop weight. We cannot be sure as there are not may reports but our potatoes were exceptionally tall – over a metre high. Much more than previously experienced
Was lifting the potatoes easier or harder in some beds?
Yes. The beds with high tilth (biochar and compost) were significantly easier to lift and separate over the clay and humus amended beds – again we are comfortable concluding this is a direct reflection of the tilth and aggregation in the amended mixes.
We achieved 50% more 'second early' Charlotte potatoes from our biochar/humus/compost amended soil mixes over the potatoes from the clay soil.
Take a look at the photos:
Test bed 1: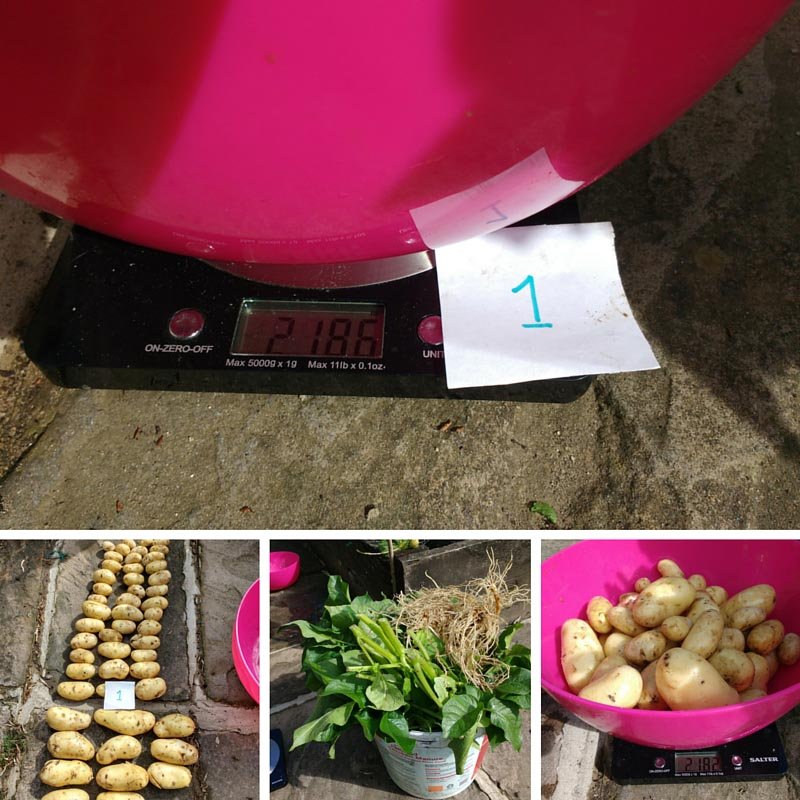 Test bed 2:
Test bed 3: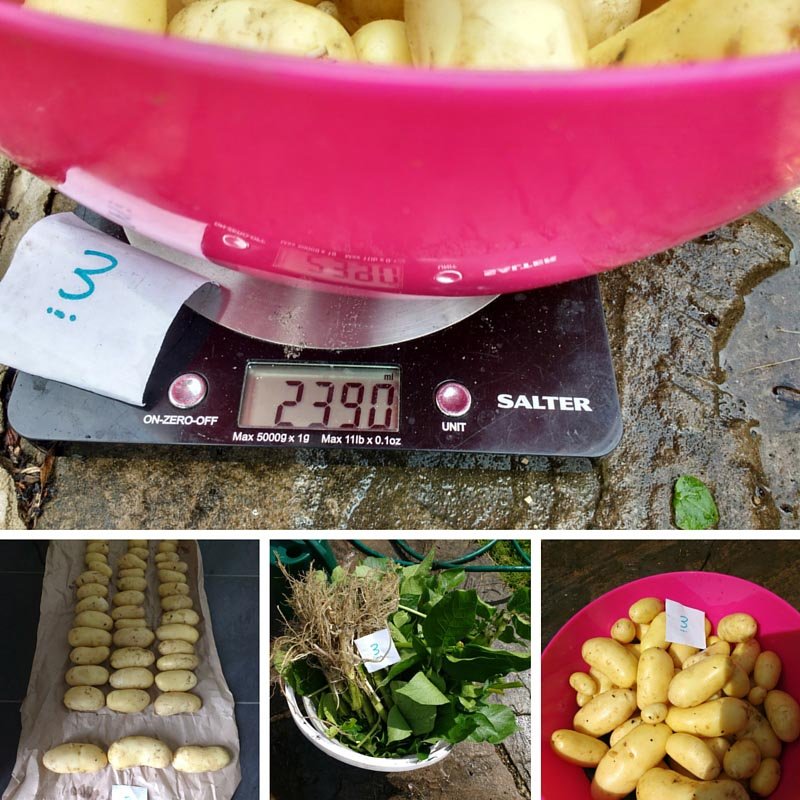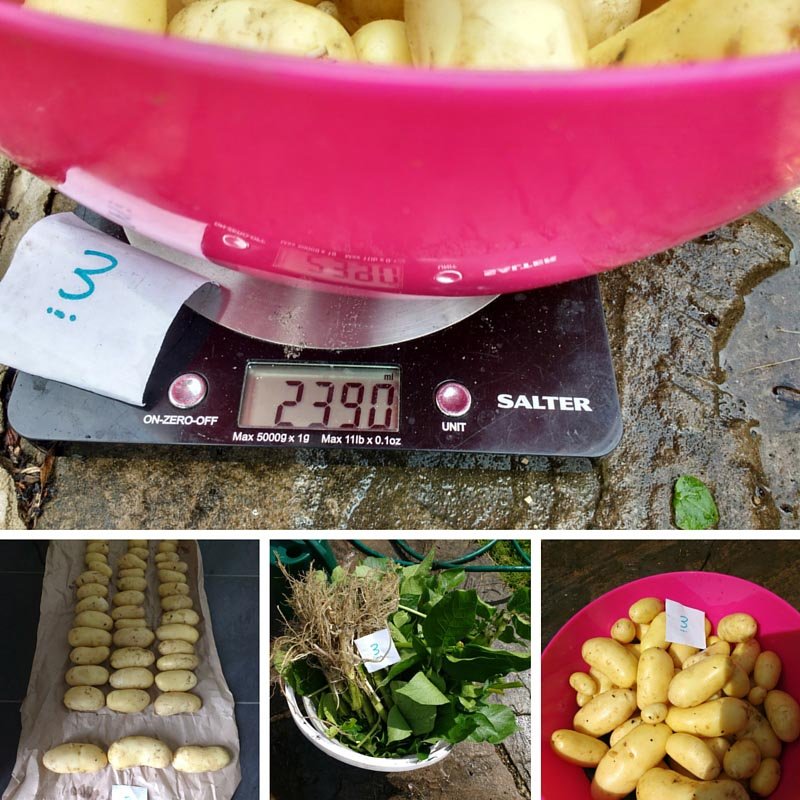 Test bed 4:
Test bed 5: