Activated carbon for aquariums - tried & tested – crystal clear!
In our blog exploring the types of activated carbon used in aquarium fish tanks, we suggested that types of wood-based charcoal (biochar) should outperform activated carbon pellets to clarify and remove water discoloration in aquariums.
We have done some testing using reference dye molecules to see which gave the clearest solution (see method below). We then estimated the price/performance ratio by taking the price divided by the % effectiveness. We hope the results are crystal clear!
Test one:
| Position | Sample | £/Kg | Price/Perfom |
| --- | --- | --- | --- |
| 1st | 2mm diameter pellet, branded (sample A) | £5.25 | £5.25 |
| 2nd | 2-8mm biochar granules, SoilFixer (sample C) | £4.75 | £5.95 |
| 3rd | 6mm diameter pellet, branded (sample B) | £5.50 | £7.86 |
We were disappointed in Test 1 not to see our activated carbon granule (biochar) outperform the 2mm activated carbon pellet. Then we spotted an experimental design flaw*, we re-tested using a comparable weight of carbon!
Test two
| Position | Sample | £/Kg | Price/Perform |
| --- | --- | --- | --- |
| 1st | 2-8mm biochar granules, SoilFixer (sample C) | £4.75 | £4.75 |
| 2nd | 2mm diameter pellet, branded (sample A) | £5.25 | £5.25 |
| 3rd | 6mm diameter pellet, branded (sample B) | £5.50 | £7.86 |
Conclusion
In our tests, the price/Kg and performance of activated carbons varied by supplier.
We had a 15% price variance and a performance variation estimated at 30%. Creating a simplified "price/performance" ratio, we feel there is a clear winner.
(We acknowledge these tests are comparative rather than a qualitative study using a defined ASTM type standardised test. We did this for speed (half a day) and low cost (a few pounds versus several thousand). Let us know if you think we have missed something key!)
Looking in more detail at the testing
Sample choice: we picked a well-known 'boxed' branded product of 2mm pellet, a less well known brand in a poly bag of 6mm pellet, and the 2-8 mm SoilFixer Activated carbon granule.
Our method
We used 500 ml plastic water bottles as 'filter canisters'. Cut off the bottom, placed a 1-micron filter cloth in neck to prevent carbon falling out and filled each up-turned bottle with 200 ml of carbon. (See images).
We rinsed each carbon filter with water (about 1 litre, so X5 volume water to carbon) to flush away the black carbon powder.
We made up three reference dye solutions that indicate how well carbon removes small, medium and large molecules of 'contaminants' from water. The solutions were:
Iodine (20 drops (about 5ml) into 400 ml of water)
Methylene Blue (10 drops (2ml into 400 ml water)
Compost/DOM (50g of compost into 100ml, then diluted back to a pale brown/yellow tinge). We used this DOM over a molasses solution as we felt it replicated the real organic contaminants in the fish tank (ie poo and decaying plant matter).
We gently hand-poured 100 ml of each solution into the bottles to replicate a pump or drip flow of discoloured water from the aquarium through filter canister. Allowed it to soak through and poured it through second and sometimes third time until we had a clear solution in 1 or 2 bottles.
We took photos every five -minutes against a white background. We checked for removal of discolouration by eye. (Given time we would have purchased a colorimeter – but the changes were noticeable by eye.)
Test 1 sequence 1min- 90 min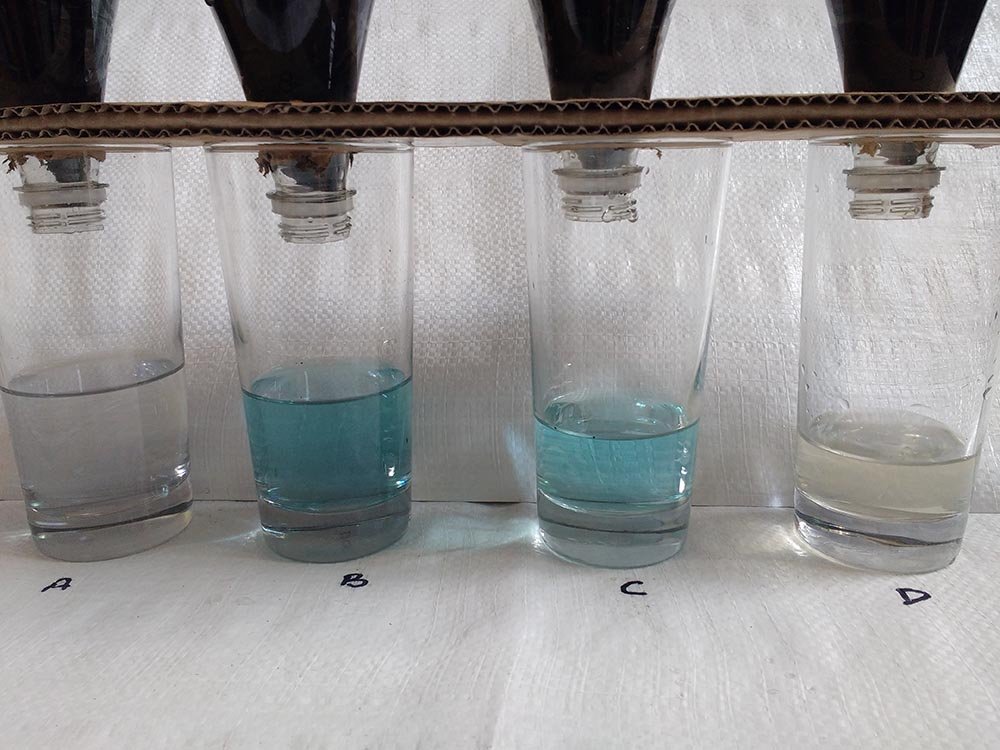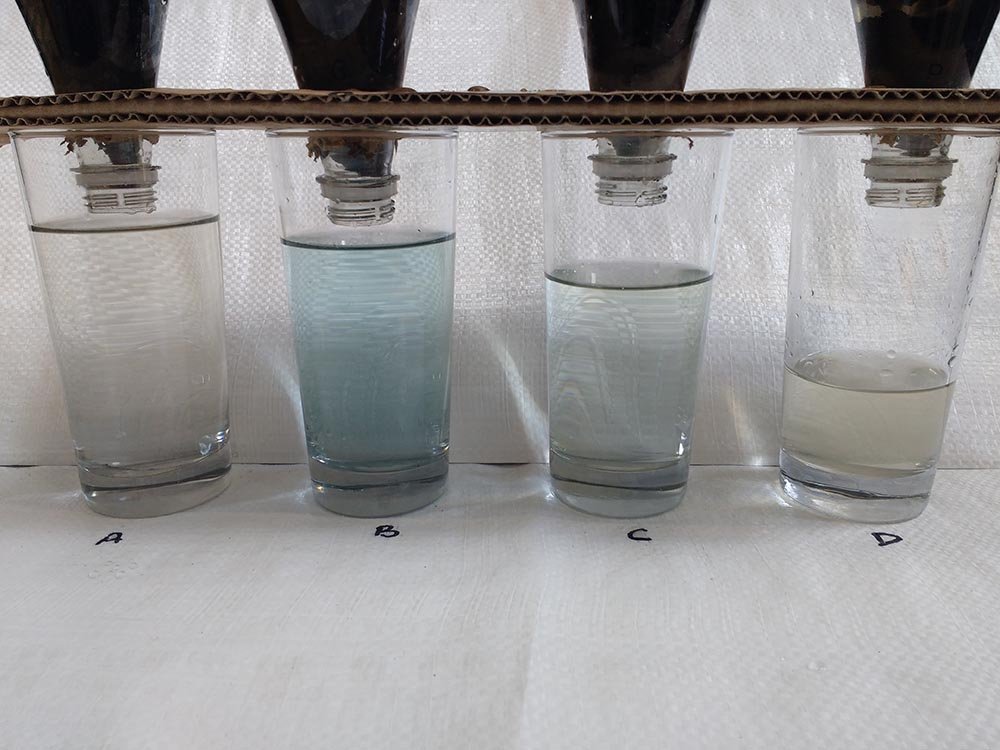 Test 2 - test two*, we weighed out and filled bottles A & C with 200 grams (rather than 200 ml) of activated carbon – ie the same weight. Our first experiment using 200 ml was flawed - adsorption of the dye molecules depends on the number of carbon atoms and the pore sizes they form into. In test 1, we had 210g of pellets (A) and only 80g of carbon granule (C). The bulk density of (A) is 1.05 and (C) 0.40 g/cm3. Hence we need 3 times more volume of granule (C) for the same weight of carbon. (Keep in mind - suppliers price carbon per dry Kg. Using x3 volume is same cost as both use 200g.)
Test2 - photo sequence 1-35 min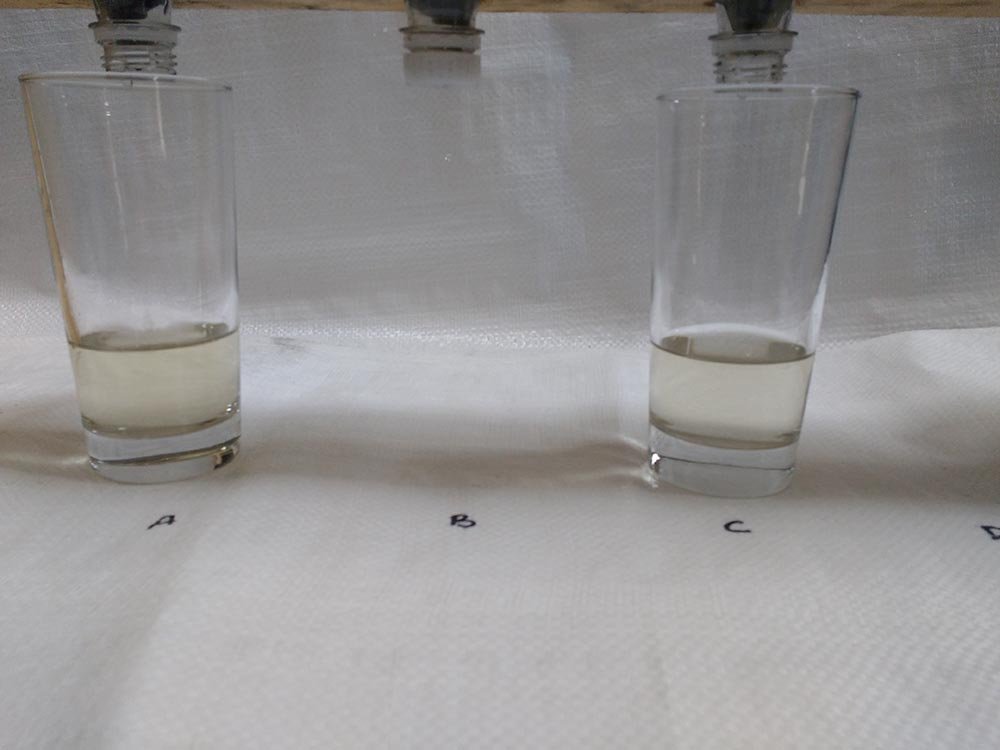 Observations
Iodine solution (small molecules): all the carbons removed the yellow iodine colour very quickly - within a minute.
Methylene blue (medium molecules): proved the biggest differentiator. (A) outperformed the others and C still had a blue tint at the end of the test.
Compost DOM (brown/yellow): removal of the yellow/brown tint was interesting. We had expected a clear winner but they all performed well.
Hand pouring is not precise. We did observer that the solution flowed out faster in the larger particle products. We feel that the lower contact time (retention time) becomes less of an issue with multiple passes. Since C (the granule) was by far the most porous and yet it still filtered near best, we think the overall impact is low.
Volume versus weight
The 2-8mm SoilFixer activated carbon granule has a bulk density of 0.4 g/cm3, the 2mm and 6mm pellets were 1.05 (A) and 0.95 (B) resp. This matters! 200 ml of (A) contains 210g of carbon, 200 ml of (C) only 80g carbon – a three fold difference. In test 2, we used the same weight 200g of each carbon.
Is it viable to add three times more – surely it would triple the cost? It does not triple the cost – activated carbon is sold on a kg dry weight. SoilFixer is aware of the bulk density situation. We sell based on litre and always ensure the per Kg price is competitive. (A = £5.25/Kg, B = £5.50/Kg, C= £4.75Kg. Please note the price /Kg can vary by a factor of 10 depending on the pack size purchased. We opted to use the 4Kg pack size pricing).
Biofilter concept
The observant will have noticed there was a sample (D). In the tests we are looking at how well the activated carbon removes chemical by adsorption onto the carbon sites. We are looking at how to use carbon as a "biofilter" is use a combination of microbes and chemical factors to remove impurities. The premise is to that microbes can live on some but not all activated carbons. Microbes eat the organic chemicals causing discoloration. The activated carbon traps and pulls tem from the water. The microbes then eat them. By carefully setting up the system, the amount of waste (causing yellow colouration) = microbes needed to eat = transfer of nutrients to roots = no build up of biofilm. It needs a lot more testing. However, this quick test indicates (D) is worth perusing. Any volunteers to help contact [email protected]